Experiences and data driven by brand, space, and culture will serve the next generation of workplace.
Outside of project criteria considerations, there are outside influences: generational shifts, technological advances and environmental concerns, shaping the needs of not only the next generation, but all generations. We study emerging demands and their impact on performance to deliver informed, effective and sustainable solutions.
The built environment doesn't function the same as it did 5, 10, or 15 years ago, yet the design of the built environment has fundamentally remained unchanged. Our firm embraces experience, data, and design to align the environment with the unique needs of an organizational DNA.
BRAND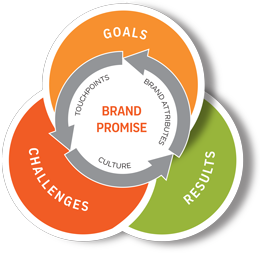 Brand is not a logo, an identity or a paint color on the wall. Brand is an external reflection of an internal culture. A well-branded meaningful workplace tells a story about who our clients are, what they do and why it matters. It gives meaning to believe and empowers people to feel value and be a part of organizational goals.
Today's workplace demands spaces that fuel an understanding of the brand, foster cross-pollination, build synergies between silos, allowing for greater innovation, flexibility and efficiency. When organizations fail to provide an environment that offers this type of engagement and inclusion, the brand risks one sizable and unstable link — a disengaged and dispassionate workforce. Equally important to consider is the role of internal culture: values, attributes and motivators.

A brand-rich workplace reinforces the organizational culture for the workforce, employees become engaged, thus empowering and strengthening their brand.
SPACE
If a poor performing environment exists, one will find it difficult to be motivated. Teams, clients, and all those impacted by space.
There's been a seismic shift in the way people work and use space today. Say goodbye to the days of rows and rows of mundane cubes and closed-door, private offices and hello to reconfigured, multi-use, collaborative 'we spaces'.
A well designed space allows one to create loyalty, increase performance, and engage. It has the power to attract people to actually want to be a catalyst for growth and improvement, allowing your organization to thrive.
Every project is different and we excel at asking the right questions and gathering the right people to answer them. Through creative and tailored space planning, operating costs can be reduced, performance can be measured, and culture can be empowered and rejuvenated with the message invigorating through the heart of an organization.
CULTURE
If brand is the external reflection, then culture is the inward justification. It's a collection of attitudes, experiences and values which guide the way people, leaders, employees and clients alike, behave.
A healthy culture means higher morale, better retention and increased attraction. A healthy culture, much like brand, supports internal and external loyalty, trust and ultimately increased innovation with a higher performance rate, thereby positively impacting the bottom line.
The design and culture of a high-tech communication firm is going to have a very different set of corporate values than a 100 year old law firm, which has a very different set of values than a healthcare or educational organization. We recognize the inherent differences of our clients, hear their voice, and engage in early dialogue which addresses culture requirements, need for change and create a unique vision.